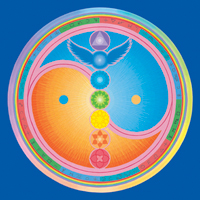 The mandalas presented on this site have developed over a period of about forty years and are a record of a journey which is both personal and transpersonal. It is a personal journey in that the mandalas were painted at a particular time and place in my life and a transpersonal one in that the principles underlying mandalas are universal and timeless. email Barry
Luminescence Visual Meditation. App. featuring my mandalas for Android Devices
MANDALAS PAINTED AND PUBLISHED BY BARRY STEVENS
Beautiful, colourful and luminous mandalas by contemporary mandala artist
Mandalas are universal images which can be found all over the world and beyond.They exist in the West, notably in the rose windows of cathedrals, and other forms of sacred art. They have been explored and developed to an exceptional degree in the East, especially in the Tibetan and Indian cultures and they are widely used in American Indian rituals. Mandalas are found everywhere in human culture especially where awareness of unity is understood and celebrated. They occur abundantly in nature from the infinitely small as in atomic structures to the infinitely large as in galaxies. They are widely used for meditation and healing.
Tour lists all mandalas on site


For those of you who might like to visit the area and explore mandalas.
Shunyata Gallery is in my home in beautiful Pembrokeshire, West Wales. UK.
Visitors welcome anytime to view my work. Phoning first recommended. Accommodation also available here if required as well as mandala workshops. email Barry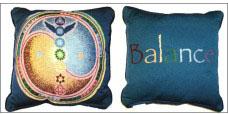 The designs below are avaialable as Window Transparencies. "May we all realize the transparency of our own minds..."